Tom Garrity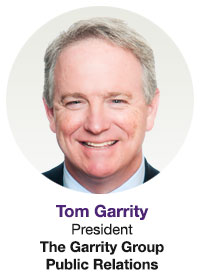 Tom Garrity shapes perceptions for events and industries that define New Mexico. His work with the Albuquerque International Balloon Fiesta, New Mexico Certified Chile, Roswell UFO Encounter as well as working with companies in the telecommunications, healthcare and renewable energy industries has earned a number of recognitions.
The Garrity Group helps small businesses to be heard and large organizations to be understood. Their annual Garrity Perception Survey (a free resource on GarrityPR.com) provides a seven-year look at who New Mexico residents trust, favorability of industries and how residents access news and information.
Speaker Topic
Tom will be presenting The Fine Balance of Being Relevant during the B2B Expo ProTalks pre-event.
---
2020 PREMIER DIAMOND SPONSORS