Speaker Topics
To attend the ProTalks Pre-Event, be sure to choose the All Access Pass registration form (coming soon) when you purchase your admission ticket.
SPEAKER #1: Glenn Felty
TOPIC: 5 Steps to Bulletproof YOUR Mindset
You will learn:
How to distinguish between genuine constructive criticism and true haters
What to do when you find yourself slipping into a negative mindset
When should quitting be an option
PRESENTER: Glenn Felty, Founder and CEO of SunState Solar
SPEAKER #2: Tom Garrity
TOPIC: The Fine Balance of Being Relevant
The presentation will provide participants insights on how to gain and grow relevance by exploring:
Geography — Understanding the landscape as it relates to your relevance and why the peaks and valleys exist
Industry — Making your business understandable and relevant to your customers and community
Personal Leadership — Folding in your flaws and strengths to define the "why" of your professional persona
PRESENTER: Tom Garrity, President of The Garrity Group Public Relations
SPEAKER #3: Mary Cravets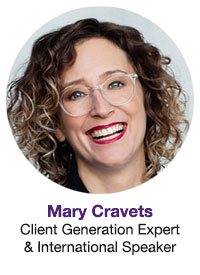 TOPIC: More Clients, Less Effort: Create More Leads by Strategically Doing LESS
Client generation is the lifeblood of your business. And to experience significant growth at any phase, you need simple systems in place so client generation is streamlined, cost effective and consistently producing results.
In this highly interactive presentation, you will roll up your sleeves and:
Discover the simplest, most effective strategies to generate a steady stream of high-quality clients without giving up your nights and weekends
Streamline and customize your efforts, so you can stop wasting time and money on marketing that doesn't get results
Learn a client generation system that has a proven track record of helping entrepreneurs quickly increase their income by 50-100%
PRESENTER: Mary Cravets, Client Generation Expert
SPEAKER #4: Synthia Jaramillo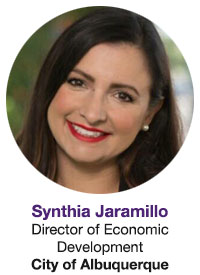 TOPIC: Economic Development in Albuquerque
Presentation details to come …
PRESENTER: Synthia Jaramillo, Director of Economic Development, City of Albuquerque
SPEAKER #5: Jerome Wade
TOPIC: THE ELITE PRODUCER™: How Business and Sales Professionals Achieve the Extraordinary
Life for business and sales professionals is consumed by creating and sustaining results, driving revenue and growing relationships. The complexity of work, home and personal life often limit the performance and productivity of even the most determined — creating frustration, unnecessary stress, and diminished results.
Becoming The Elite Producer™ can be achieved by implementing the transformational truths of the Elite Producers Formula where getting extraordinary results is an everyday experience. You can unleash your greater self, live and lead at your fullest potential, and get the results that you dream. When results matter, it's The Elite Producer™ who achieves the extraordinary.
In this power-packed, solution-rich presentation, you will learn:
The 5 pillars of an elite producer
The irrefutable habits that get results, every day
How to activate the inner game for optimized results
The irreducible minimum of peak performance & extraordinary productivity
How to achieve breakthrough focus and an undeterred confidence
PRESENTER: Jerome Wade, CEO of Epic Global™
---
2020 PREMIER DIAMOND SPONSORS