Mary Cravets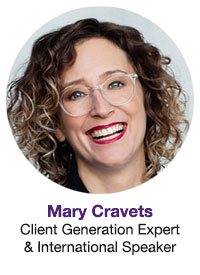 Mary Cravets is a Client Generation Strategist and International Speaker who helps entrepreneurs significantly grow their businesses without working nights and weekends. Using her methods, the majority of her clients quickly increase their income 50-100%.
Clients include the former CFO of Microsoft North America, thought leaders in the coaching industry and rising stars in a variety of other professions.
Mary is also an avid rollercoaster enthusiast and a kayaking volunteer for a wildlife protection program in Morro Bay, California.
Speaker Topic
Mary will be presenting More Clients, Less Effort: Create More Leads by Strategically Doing LESS during the B2B Expo ProTalks pre-event.
---
2020 PREMIER DIAMOND SPONSORS