Jerome Wade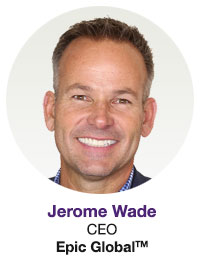 Jerome Wade, CSP, is an author, international speaker, and an advisor to business and sales professionals. With 25 years of C-Suite experience, Jerome is a seasoned authority on executive leadership, sales performance, and team productivity.
Having given more than 2800 presentations, Jerome masterfully engages audiences with actionable insight that drives results. Leveraging the power of story from Jerome's global adventures and experiences (trekking to Everest Base Camp, summiting Mt. Machu Picchu, exploring the Amazon, kayaking the Grand Canyon, sailing the Caribbean, and more), audiences are inspired to live and lead at the top of their game.
Jerome is the CEO of Epic Global™, a leadership and sales performance consultancy, and creator of the online Elite Producers Program that coaches individuals and organizations how to drive results, revenue, and relationships.
Speaker Topic
Jerome will be presenting THE ELITE PRODUCER™: How Business and Sales Professionals Achieve the Extraordinary during the B2B Expo ProTalks pre-event.
---
2020 PREMIER DIAMOND SPONSORS