Glenn Felty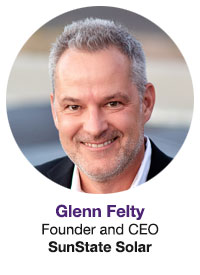 Currently Founder and CEO of SunState Solar, Felty is a business junkie who has been in sales management and entrepreneurship for over 25 years. With a wide range of experience in retail, business-to-business and direct sales, Glenn has a wealth of knowledge about building a bulletproof mindset and creating your path to success in spite of those who would try to discourage you.
In addition to being a passionate entrepreneur, Glenn enjoys spending time with his wife, his daughter and their two beloved dogs, and is an avid skier, golfer, foodie and lover of adventures of all kinds.
Speaker Topic
Glenn will be presenting 5 Steps to Bulletproof YOUR Mindset during the B2B Expo ProTalks pre-event.
---
2020 PREMIER DIAMOND SPONSORS