Why Attend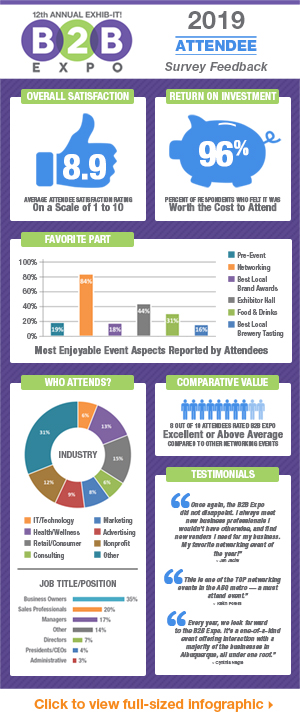 B2B networking is an important part of doing business in Albuquerque. And sometimes in order to succeed, it's all about WHO you need to know, more than WHAT you know.
A Platform for Real Conversations and Real Growth
Our attendees are high-level decision makers interested in having REAL conversations. They are interested in connecting, collaborating, and communicating to build strategic alliance business partnerships through exposure at this event.
And in a four-hour event like this, there's plenty of time for these types of conversations to happen. This event offers a pleasant, positive environment that's conducive to networking.
Truth is, the B2B networking that you do at our expo can lead to real opportunities in your pipeline.
Take advantage of this amazing opportunity to build synergy for business growth while getting to know other local business owners and C-suite executives in our community.
Exhibitors – Reserve Your Booth Space >
---
2022 PREMIER DIAMOND SPONSORS