Dr. Gary Sanchez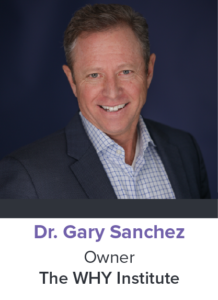 Dr. Gary Sanchez believes there is always a better way.  As a dentist, inventor, author or speaker – he is always in search of a better way.
Struggling to stand out in the crowded dental marketplace led him on his quest to learn about the power of WHY.  He found that many experts talk about the need to know your WHY but none helped him actually discover his WHY. His obsession with WHY led to him discovering his own WHY as well as the process for helping others discover theirs.
Dr. Sanchez and his team have now worked with over 40,000 individuals, as well as 500 companies from small yoga studios to Fortune 500 Companies helping them get clear, stand out and play bigger.
Speaker Topic
Dr. Sanchez will be presenting Find your WHY during the B2B Expo ProTalks event.
---
2022 PREMIER DIAMOND SPONSORS