Best Local Brand Award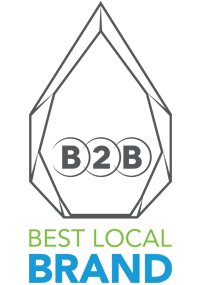 The 2022 B2B Expo will feature the Best Local Brand Awards for the 9th year in a row.
There will be one first-place winner in two different categories:
---
CONTEST DETAILS
---
2022 PRIZES AND AWARDS
Best Local Brand winners in each of the two categories receive:
EXHIB-IT! – Best Local Brand Crystal Award ($200 value)
EXHIB-IT! – Retractable Banner Stand, including design and printed graphic ($625 value)
770KKOB and MAGIC 99.5 – One 30-second Commercial spot, including writing and production (airtime is separate) PLUS an Exhibit Booth Space at one of the Quarterly Net @ 5 Networking Events ($1000 value)
Albuquerque Business First – Open Rate Ad Package for the 2022 weekly edition of Albuquerque Business First. NOTE: Ad(s) must be camera-ready and to specified sizes. Space must be reserved three weeks before the publication date. Email cbeeke@bizjournals.com to redeem. ($5000 value)
---
CONTEST TIMELINE
Official online entry forms for both commercial and nonprofit organizations were published and made available on this website as of July 1, 2021, with an official entry deadline of no later than March 11, 2022.
On March 18, 2022, the top 3 finalists in each category will be announced and all applicants notified.
Finalists will be placed online for Open Voting by the community to begin February 21, 2022, with an end date of Event April 19, 2022, at 4:00 PM.
Winners will be announced LIVE at 4:15 PM from the virtual stage at the B2B Expo.
---
QUALIFICATIONS AND CRITERIA
Must be an established, locally-owned (New Mexico only) nonprofit organization or a for-profit commercial business.
Enter by no later than March 11, 2022. No late submissions will be accepted.
Submissions must be complete and include uploaded logo/branding examples.
---
SEE THE 2019 WINNERS
The winners in each of the two categories for 2019 were:
COMMERCIAL BUSINESS CATEGORY: New Mexico Sabor
NONPROFIT ORGANIZATION CATEGORY: Family Friendly New Mexico
---
How to Enter
Contestants may enter via one of our two online submission forms:
All entries must be received by EXHIB-IT! no later than March 11, 2022, at 5:00 PM MST to be eligible. No late entries will be accepted. To confirm your entry was received, please call Ashley Ferrell at 505.999.1884.
---
2022 PREMIER DIAMOND SPONSORS