Tom Briones, J.D.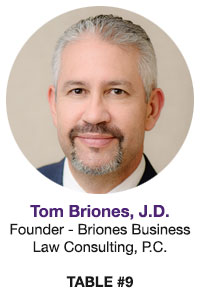 Thomas R. Briones has been a business attorney for more than 24 years. He represents small to medium-size locally owned businesses. His law firm, Briones Business Law Consulting, P.C., is a boutique business law firm in Albuquerque which provides outside general counsel services to local business owners on a monthly flat fee basis.
Tom is a past chair of the Albuquerque Hispano Chamber of Commerce and the National Hispanic Cultural Center Foundation, and sits on the boards of such non-profits as the Association of Commerce and Industry (Executive Committee), the Central New Mexico Community College Foundation, the Greater Albuquerque Chamber of Commerce, Holman's Foundation for Autism, and Junior Achievement of New Mexico. He was a founding member of the United Way of Central New Mexico's Hispano Philanthropic Society, is a former member of the Small Business Administration's Regulatory Fairness Board, and is a former board member of WESST.
Tom lives in Albuquerque, New Mexico with his wife, Stephanie, who is currently attending UNM's School of Medicine.
Discussion Topic
Tom will be leading the educational roundtable, The Cannabis Business: What You Need to Know, at Table #9.
---
2020 PREMIER DIAMOND SPONSORS