Ryan Cangiolosi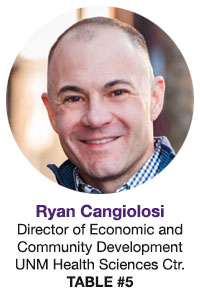 Ryan Cangiolosi works at the University of New Mexico Health Sciences Center as the Director of Economic & Community Development. He previously worked for Harvey E. Yates, Jr. as Vice President of Business Operations at Jalapeno Corporation, an energy production company, and as Executive Director of the Republican Party of NM. Later, he became Governor Susana Martinez's Campaign Manager and then served as Deputy Chief of Staff. He is also a Lieutenant Commander in the U.S. Navy Reserves and the chairman of the Republican Party of New Mexico.
Ryan was born and raised in Albuquerque, NM, and is a graduate of the University of New Mexico, where he earned a Bachelor of Arts degree and a Master's in Business Administration. He has a 21-year-old daughter, Kaylee, who is currently studying Marketing and Communications.
Discussion Topic
Ryan will be leading the educational roundtable, Cultivating Meaningful Relationships with Community Stakeholders, at Table #5.
---
B2B EXPO DIAMOND SPONSORS