Mark Herman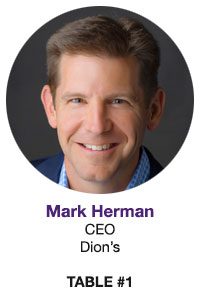 Born and raised in Albuquerque, Mark Herman started working as a pizza maker at Dion's after graduating from high school in 1987. In 1991 he graduated with honors from the University of New Mexico with a BA in Economics. After a short stint with MassMutual, Mark accepted a General Manager position with Dion's in 1992. Mark became known for improvements to customer service and employee satisfaction while keeping costs low. He helped to build a culture of high expectations, trust, and empowerment. In October of 2000, he was promoted to Vice President of Store Operations, then Chief Operating Officer in 2006. In his time as COO, Mark focused on developing Dion's marketing, management talent, and systems to prepare for successful regional expansion. Mark was named Chief Executive Officer in December of 2012, focusing on the company's strategic growth plan and financial recapitalization.
Mark has a passion for helping others to be the best they can be. He graduated from the Leadership New Mexico Core Program in 2013, is also a member of Vistage International and the Albuquerque Academy Alumni Council, as well as serving on the Boards of Horizons at the Bosque School and the Golden Apple Foundation of New Mexico. Mark has a daughter and a son. He has several "slices of life" including spending time in the mountains with his kids, skiing, playing soccer, running, and reading.
Discussion Topic
Mark will be leading the educational roundtable, Teach Them to Fish: How Culture Trumps Control, at Table #1.
---
B2B EXPO DIAMOND SPONSORS