Mark Gonzales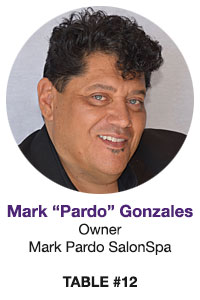 Mark "Pardo" Gonzales comes from a long line of barbers, taking after his father and extended family by pursuing a career in the hair industry.
Gonzales' first job was shining shoes at his dad's business, Pardo's Barber Shop, near the intersection of Lomas and Juan Tabo. He began learning the tricks of the trade through simple observation. By the time he was a teenager, Gonzales was cutting his friends' hair on Monday afternoons.
In 1985, the then 25-year-old Gonzales found himself running his father's barber shop, which he used as a platform to create the Mark Pardo Salon Spa chain and the Aveda Institute of New Mexico.
Since being founded in 1986, Mark Pardo Salon Spa has offered world-class customizable salon and spa experiences. Today with four locations, Mark Pardo Salon Spa is the largest independently owned salon in New Mexico.
As a leader in the community, Mark Gonzales accredits giving back as a pinnacle foundation for the company's success. With this core principle in mind, Mark Pardo Salon Spa has donated over $50,000 to community programs such as the United Way, Wild Earth Guardians, APS, CLN Kids and many more.
Discussion Topic
Mark will be leading the educational roundtable, How to Shape Success, at Table #12.
---
B2B EXPO DIAMOND SPONSORS