Kristelle Siarza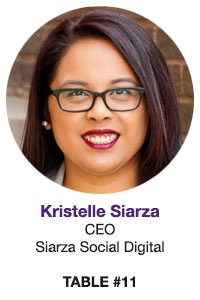 Kristelle is a digital communications and marketing specialist with over 15 years of experience. In 2014, after 11 years in agencies and marketing/comms departments, she founded Siarza Social Digital — a 360 degree digital communications firm that pivots on innovation, curation, and creativity.
Kristelle has consulted for and assisted several organizations with digital marketing and communications strategies for the tech, tourism, hospitality, and B2B markets. Her social media and content strategies have helped clients generate millions of impressions and win local and national recognition.
As a Filipino-American, she is one of Albuquerque, NM's youngest business owners of minority status and one of the New Mexico's rising stars. In 2016, Kristelle was honored as one of NM's "Forty Under 40," and Siarza Social Digital was honored with a "Flying 40 Falcon Award" as one of the fastest growing companies in the state.
Discussion Topic
Kristelle will be leading the educational roundtable, Tilt and Shift: Evolving Digital Marketing and Strategy, at Table #11.
---
B2B EXPO DIAMOND SPONSORS