Keri Stewart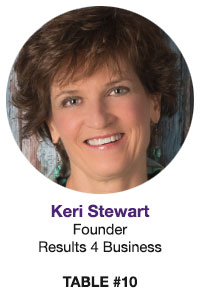 Keri Stewart, founder of Results 4 Business, loves creating and enjoying gorgeous, peaceful gardens in her backyard. This love for growing translates well into her profession — growing and cultivating leaders and their teams.
Since 2004, she has worked as a certified business coach and international, award-winning facilitator who has trained and coached tens of thousands of employees at all levels.
Keri specializes in creating cohesive operational plans from the corner office to the front line. Her personal and professional training programs range from polishing presenters to become compelling and memorable, improving communication, increasing sales, boosting employee productivity, and elevating customer service.
Discussion Topic
Keri will be leading the educational roundtable, Power Up Q2 & Q3 and See What You Can Do, at Table #10.
---
2019 PREMIER DIAMOND SPONSORS