John M. Garcia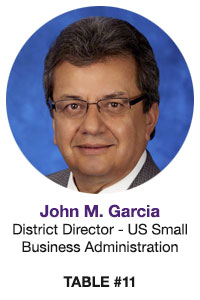 As the District Director of the U.S. Small Business Administration (SBA) New Mexico District Office, John M. Garcia is responsible for the statewide delivery of SBA programs and services to support business owners in starting and growing their businesses, creating jobs and developing local economies throughout New Mexico.
Garcia is both an experienced small business owner and public servant who earned high acclaim for his achievements as a veteran advocate and small business champion at the city, state and national levels. Garcia has been recognized for his outstanding contributions to veterans, small businesses and economic development.
Most recent awards include the Profile of Courage Award from the Vietnam Veterans of New Mexico, the New Mexico Veteran Small Business Advocate of the Year from the SBA, and the Iron Mike Award from the National Association of State Directors of Veterans Affairs for his leadership as President.
Discussion Topic
John will be leading the educational roundtable, Start and Grow Your Business First with the SBA, at Table #11.
---
2020 PREMIER DIAMOND SPONSORS