Diane Villegas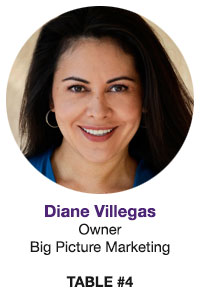 Diane Villegas is a native New Mexican and owner of Big Picture Marketing Strategies, a marketing consulting agency that assists businesses in creating effective and strategic marketing plans — which includes everything from strategy, campaign development, media buying, corporate communications, social media, and customer retention.
Diane has held leadership positions with Comcast as Southwest Regional Director of Marketing and at the REELZ Channel as Vice-President of Affiliate Marketing. Diane holds an MBA from the University of New Mexico and in 2014, she was selected as an honoree of Albuquerque Business First's "Top 40 Under 40 Award."
Discussion Topic
Diane will be leading the educational roundtable, The 6 Key Components Needed to Put Together a Successful (and Profitable) Marketing Plan, at Table #4.
---
B2B EXPO DIAMOND SPONSORS