Del Esparza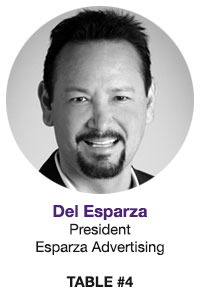 A native of Albuquerque, Del acquired his marketing expertise in a range of fields, from high tech to healthcare. He began his career at IBM, and later advanced to a marketing position with DuPont and Conoco Oil Corporation in Houston, Texas.
Transferring his talents to the health arena, Del worked for many regional and national health care providers before starting Esparza Advertising. Founded in 2000, Esparza Advertising is a New Mexico-based business that provides strategic marketing, advertising, and business solutions to a broad range of national public and private clients.
Some of Esparza's clients include Blue Cross and Blue Shield, Oppenheimer Funds, PNM, BMW, and Mini.
Discussion Topic
Del will be leading the educational roundtable, The Digital Toolkit Every Business Needs in Today's Digital World, at Table #4.
---
2020 PREMIER DIAMOND SPONSORS