Chris Schroeder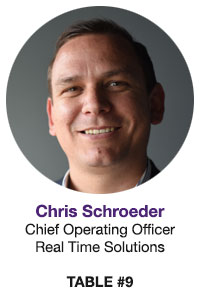 Chris Schroeder is the Chief Operating Officer for Real Time Solutions, a web based software company headquartered in Albuquerque, New Mexico.
He was raised in Albuquerque and upon completing High School he proceeded to work for a startup website company, Real Time Sites. Concurrently, he studied philosophy and religious studies at the University of New Mexico, earning a Bachelor's degree. After finishing college, he began working full time for Real Time Sites, creating over 1800 websites and software applications. He was instrumental in building Real Time Sites into New Mexico's premier web-based business solutions company.
In 2011, the company reflected its metamorphosis with a newly designed brand under the name of Real Time Solutions. He was
promoted to Chief Operating Officer in 2014 and currently serves in this capacity. He oversees a staff of over 30 employees and is responsible for the day to day operations within the company.
Chris is passionate about Albuquerque. Grateful to live in such a dynamic community, he works very hard to make his city better. He sits on several boards and is actively engaged in new initiatives, from local government and businesses, that are geared to make Albuquerque a stronger city.
Discussion Topic
Chris will be leading the educational roundtable, How to Keep Our Young People from Leaving Albuquerque, at Table #9.
---
B2B EXPO DIAMOND SPONSORS