Annemarie Henton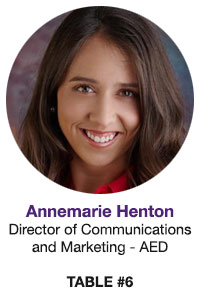 Annemarie Ciepiela Henton, APR, is the Director of Communications and Marketing for Albuquerque Economic Development Inc. She is responsible for directing, implementing, managing and evaluating the organization's ongoing marketing and communications efforts. She also is a member of AED's recruitment team, working to bring new employers to the metro area. In addition to her role at AED, Annemarie served in an executive-on-loan capacity to Mayor Richard J. Berry for the City of Albuquerque's Innovation Team in 2015 and 2016.
Annemarie has more than 10 years' experience developing and directing integrated marketing and communications campaigns. She specializes in connecting people with each other and with ideas, stories, products and services.
Annemarie holds a Bachelor's degree in business administration from the University of Arizona. In 2014, Annemarie earned her Accreditation in Public Relations from the Universal Accreditation Board in New York, a designation that demonstrates her work ethic, knowledge of communications theories and technology, and commitment to ethical practice.
Discussion Topic
Annemarie will be leading the educational roundtable, A Seat at the Table: Why Engaging Millennials in Leadership Roles Is a Strategic Advantage, at Table #6.
---
B2B EXPO DIAMOND SPONSORS