Andy Lim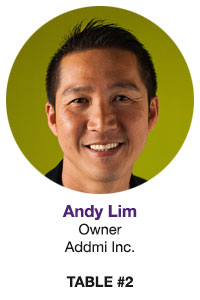 A graduate of the University of New Mexico, Andy Lim is a software developer turned serial entrepreneur who has led several successful startups in New Mexico. His background in Computer Science and Management Information Systems set the foundation for his extensive knowledge and understanding of business and technology.
In Andy's previous role, he served as founder and CEO of Lavu, Inc., in downtown Albuquerque. Lavu is quickly becoming a global leader in technology in the hospitality industry, serving thousands of businesses in more then 90+ countries. Andy led a $15M series A funding round for Lavu to continue growing the company. At the time of Andy's departure, Lavu employed 80 people and had been featured in The Wall Street Journal, on CNN, and on the popular reality TV show, "Kitchen Nightmares."
Andy is now the founder of a new startup dubbed Addmi that will revolutionize ticketing systems and change the way people network at an event. Addmi has recently expanding nationwide and is poised to go global. Andy hopes to continue doing good, having fun and helping to make Albuquerque a great place to work and live!
Discussion Topic
Andy will be leading the educational roundtable, How Technology Can Change the Way You Do Business, at Table #2.
---
B2B EXPO DIAMOND SPONSORS